Man's inhumanity to man: This is why we need the IHRC
About HQ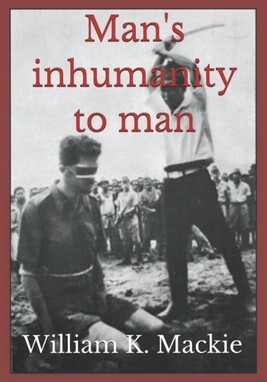 Man's inhumanity to Man:
This is why we need the IHRC
This book has been written By
IHRC Global Peace Ambassador Count William K. Mackie
on behalf of the
International Human Rights Commission Foundation- IHRC
in Switzerland.
Author using history to show how man has been inhumane to his fellow man since time began. By looking back on history, we, globally should learn from our mistakes, and moving forward we must agree that learning from our past, that is why the International Human Rights Commission - IHRC is needed more today than ever before needed as Transnatioal Intergovernmental Foundation.
By studying the facts contained in this book
"Man's inhumanity to Man"
, we must all work together ensuring best practices contribution to the protection of human rights, creating, where practicable, a formula to promoting special roles in the development of humanism, peace and humanitarian relations, counteraction to all kinds of intolerance and promotion of social coherence.
A historically deep look into the inhumanity that mankind has poured out up his fellow man and woman.
The aim of this book is two fold:
1.
To show that racial prejudice is not new, nor is is solely American.
2.
To show the reader why we need organisations such as the
International Human Rights Commission - IHRC
needed as Transnational Intergovernmental Foundation
.
---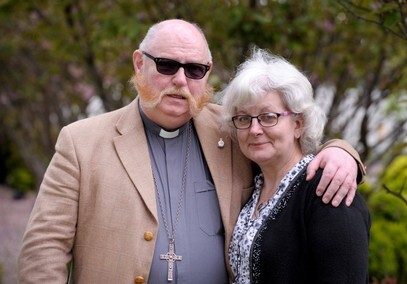 Author: William K Mackie is a native of Aberdeen, Scotland
A Veteran of both the Royal Navy and British Army. William tried his hand at Politics and stand up comedy, before finally becoming preacher.
William is a former Member of the British Society of Criminology, as well as being a former Member of the Centre for Crime and Justice Studies both based at Kings College, London.
And from there he became an Author, a Broadcaster and a Covenanter.
Now registered as Partially Sighted, in part due to Military service, he is a Member of Sight Scotland Veterans (formerly Scottish War Blinded), where he receives assistance that help him cope with his sight loss.
William had been offered the chance of a Commission into the Royal Army Chaplains' Department as a Captain ("B" Class Commission - working with Cadets only) but had to decline due to health issues.
More recently William became a Baron (Lord) within the Royal and Imperial House of Rurikovich. Then in November 2021, he was elevated to the rank of Count within the Royal and Imperial House of Rurikovich, and became the Legal Representative in Scotland for the House of Rurikovich.
William is also an Ambassador for the Global Goodwill Ambassadors Foundation, as well as an Ambassador for the
"My Body Is Mt Body"
programme, and for the
"White Ribbon Project"
- End domestic violence against woman. He is also now an advocate for the
"End Female Genital Mutilation"
movement.
The Books currently on sale:

"Denis Law - an icon of the 20th Century"

was supposed to be the only book that I would write, and it was sold to raise funds for the Regimental Museum of the Gordon Highlanders in Aberdeen.



"Do you know who I am"

- [not the original title] was not meant for publication, but then it became part of a trilogy.



"You can't hear Gods voice at 4 o'clock in the morning."

The title of this book came about when I had a disagreement with my then Pastor who told me that I could not hear God speaking at 4 am, in my own house unless there was a Pastor or Elder present. When I handed him my Bible and asked him to show where in the Bible it says what he had just told me.

He replied,

"There you go again being all charismatic."

"The devil doesn't close down churches GOD does"

is the final part of the trilogy



"Yesterday's Man"

is a collection of works by the late Rev Duncan Campbell, best remembered for the Lewis Revival 1949-52.

"Serving GOD not man"

is the trilogy mentioned above in one volume with added chapters. So, it is now a

"Trilogy in four parts."

"Conflict in the Temple GOD versus Soros"

This is an in depth look at Hungarian born Jew, Gyorgy Schwartz. He changed his name to George Soros, and he now owns the American Democratic Party.

"Lead me not into Temptation, I'll find it for myself"

This is an in depth look at how the Christian Church globally has watered down the message of Christ and HIS Gospel, and how the morals of our society have gone so far downhill because of this, that only a Global Miracle can rectify this problem.



"Where Satan's seat is...."

This is part Bible Study, part History Lesson, and part WAKE UP CALL. Revelation 2:13 Authorized King James Version,

"I know thy works, and where thou dwellest, even where Satan's seat is and thou holdest fast my name, and hast not denied my faith, even in those days wherein Antipas was my faithful martyr, who was slain among you, where Satan dwelleth."

This book above, links, Revelation 2:13 with Hitler, the European Parliament, Yasser Arafat and Obama.
"Does this mean that I'm too late?"

- Looks at the Rapture and at who is most likely be left behind when the Rapture happens.

"Hell is hot, time is short, Jesus is returning ready or not."

"The Wooden Horse of ISLAM"

and in-depth look at the

"Silent invasion of Islam"

across Europe and America.



"Billy Sunday"

This is the second in the series "Yesterday's Man" with a collection of his most notable sermons.



"Vernon Johns"

Another in the

"Yesterday's Man"

series. This time focusing on the

"Father of Americas Civil Rights Movement"

. This book is a joint project with Patrick Louis Cooney PhD, he granted me access to the work that he had collated on Dr Johns, but back in the 1990's Dr Cooney (an African American) was unable to publish his book, because at the time it was deemed to be

racist.



"There were two wolves"

I got the idea for this book from an old Cherokee tale. There are two wolves inside each of us. One is pure evil, and the other is everything nice. They are constantly fighting. Which wolf wins depends on which one you feed. In other words, you choose where you want to spend eternity.



"LORD! Your church has lost its way"

In view of how many churches of all denominations have been bowing to the pressures of "Political awareness", by watering down their sermons so that their congregations do not get upset or offended. Church leaders are praying to God to ask for a blessing to their nation. If you want your nation to be blest, go back to basics with your bible in hand and STOP Legalising SIN.



"Echoes through time"

This book covers Battlefield tours arranged for the Members of what was then known as the Scottish War Blinded, now known as Sight Scotland Veterans. In 2015 we went on a WW1 Battlefields Tour and visited several cemeteries., there are pictures to help visualise what we saw. In 2016, we went on a Tour of Normandy battle sites and cemeteries.



"Halloween and Christianity – A warning"

Today far too many Christians thinks that it is ok to celebrate Halloween, but they are so wrong.



"If MY people…."

The answer to all the word's issues, Covid-19, corruption within Governments etc is for us ALL to return to GOD as per HIS instruction in 2 Chronicle's 7:14.



"Beyond the Beaches of Normandy" This a sequel to "Echoes through time…."

It follows the Allies from the pre-landing preparations for the D-Day invasion to what happened once they pushed beyond the Beaches of Normandy.



"Man's inhumanity to man…."

Having been appointed to the

International Human Rights Commission's Special Monitoring Mission

in February 2021, I set out to write a book explaining why I believe that we need the

IHRC

today more than ever. I also wanted to write it because I wanted to show the "WOKE" generation, that slavery was nothing new, nor was it only black people who were enslaved. Racial inequality was rife in Britain long before the Americas were discovered. All the information that is contained in this book, is out there to find, but nobody wants to know the truth if it highlights that they are wrong.
Books compiled by the same author
"Agano Jipya" The New Testament in Swahili

"Biblia Takatifu" The Complete Bible in Swahili

Books by other family members

"Granny Mackie's Austerity Handbook"

---
The letter from the Author of IHRC Ambassador William K Mackie from Aberdeen, Scotland to IHRC Secretary General.