SOCIAL MEDIA GUIDELINES
Press center > Articles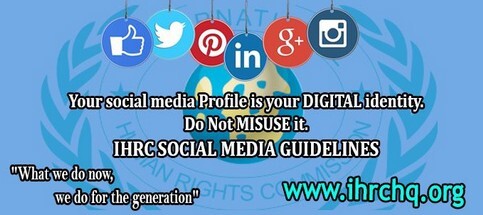 PRESS NOTE FROM THE OFFICE OF THE SECRETARY GENERAL INTERNATIONAL HUMAN RIGHTS COMMISSION: SOCIAL MEDIA GUIDELINES
International Human Rights Commission
believes in Humanity & Supremacy of Humanity. Internet has become one of the most essential tools. It helps people stay connected, it facilitates the sharing of diverse media content. Social media has changed the way we live our lives. From the
way we get our news to the way we interact with our loved ones. Social media is everywhere. It's unavoidable, it's powerful, and it's here to stay.
Your social media Profile is your DIGITAL identity. The definition of identity is not only shaped by the users with what they say about themselves (on profiles and biographies), but also with what they do (the content and style of what they share, and the users and groups with whom they interact) with 3.2 Billion Social Media Users 42% of the world Population & with 2.32 billion active monthly Facebook users your Social Media Profile must be updated with your current status.
IHRC has received several complaints regarding the misuse of SOCIAL MEDIA by our IHRC members. Being the member or representative of IHRC you are actually a CUSTODIAN of IHRC & its Policies. IHRC cannot name any HUMAN as BUTCHER, THUGS, TRAITOR OR TERRORIST until we have a specific policy on that particular subject. We are a Humanitarian Organisation & we believe in serving Humanity as our core mission.
Following are the GUIDELINES for Pakistan Region & will soon be implemented across all the Regions.
1. Only the Regional Heads will be allowed to use IHRC logo on social media Posts as no other representative is allowed to use logo for the Purpose of Social Media Posts on any Platform.
2. All the other Notified representative in Pakistan Region including Ambassadors, Goodwill Ambassadors or any other Senior member including Volunteers must follow the following while sharing, liking or making comments on any Social Media Platforms;
A. Do NOT like, share or comment on Hate Speech, Posts containing HATE OR VIOLANCE, Pictures of Head of States with Abusive Language, Posts containing abusive language against your own Head of States or other Government Official.
B. You are allowed to Criticize your Government or other Governments & its acts but with dignity, logic & ethics as you are also a representative of IHRC.
C. Please avoid unnecessary Criticism based on Religion, Politics or Ethnicity as the same comes under the umbrella of Hate Speech.
D. You are not allowed to share Videos Containing Abusive language or Prohibited Content as per Facebook & other social media rules & regulations.
E. IHRC believes in Peace & Humanity & raising issues based on Human Rights Violations without connecting them to any Religion, Caste, Group or Country.
F. Raise Your Voice for Humanity & Against Human Rights Violations with dignity & respect for the solution rather than using emotions for creating more issues.
IHRC Head Quarter has authorized Regional Heads to strictly observe the above Guidelines as in case of Violations IHRC will take strict actions by cancelling the membership of the said member on the request & recommendation by the respective Regional Head.
ISSUED ON THE INSTRUCTIONS BY THE UNDERSIGNED
Prof.h.c.
Rafał Marcin Wasik
Secretary General
International Human Rights Commission