Gallup Worlwide Survey
Press center > Articles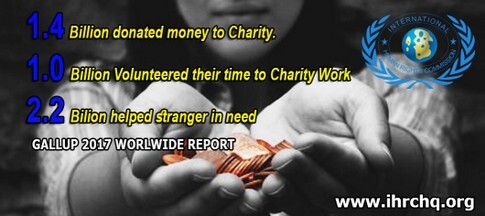 You dont need to be rich to give back – Gallup Worlwide Survey
The United States is often considered the most generous country in the world.
The reason? Americans donate a lot of money. Its people, its foundations and its
companies donated roughly $410 billion in 2017 — or about 2.1% of its own GDP. In
fact, the amount Americans donated was more than the entire GDP of all but about 40
countries in the world.
Each year, Gallup conducts surveys in more than 140 countries to answer those questions. In our latest survey, we find that the most generous
countries by this metric are Indonesia and Australia — followed closely by the United States and New Zealand.
Regardless of who you think are the most generous countries in the world, this report suggests one important thing: You don't need to be rich to give back. Some countries where people have far less to give are among the most generous. Indonesia, Kenya and Myanmar all rank among the highest in the world on Gallup's Civic Engagement Index.
The report also sheds light on how generous the whole world is. With all the reports about crime, war and terrorism served up daily in the media, it may surprise you to find out how many people are actively working to make the world a better place. Almost 1 billion people reported volunteering their time to an organization in the past month, nearly 1.4 billion said they donated money to a charity and more than 2 billion reported helping a stranger in need. While it's not their primary motivation, the 2 billion people working to make the world a better place will also be helping themselves in the process. Recent research demonstrates that being charitable with your time and money boosts your own wellbeing. As people in a number of countries look forward to their own holiday season this year, many will celebrate by giving. The World's Most Generous Countries Report shows that they won't be alone in their endeavor to make the world a better place.
---
Jon Clifton
Global Managing
Partner, Gallup