German Consulate General Karachi
Press center > Asia Region > Meetings > Pakistan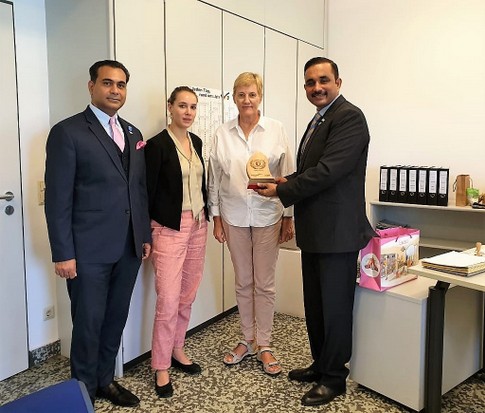 PRESS NOTE FROM THE OFFICE OF THE SECRETARY GENERAL INTERNATIONAL HUMAN RIGHTS COMMISSION: ASIA REGION

In a global survey, The World Giving Index ranked Germany at 20 out of 140 among the most charitable nations in the world. "The willingness to help is phenomenal and probably unique in the history of Germany."
More than 30 million Germans (47 percent) have been involved in helping to cope with the refugee crisis, according to the survey. Of those, the majority donated contributions in kind, such as food, clothes and furniture. Nearly ten million Germans donated money, or their time
The undersigned H.E. Mohsin Durrani Ambassador at Large & Regional Head Asia Region on behalf of
International Human Rights Commission
Pakistan would like to thank Honourable Birgit Nicole Kuhlmann, Consul & Deputy Head of Mission & Maren Dick, Attache
German Consulate General Karachi
for giving us their precious time for an Introductory meeting.
Undoubtedly it was a productive meeting & we look forward to work together in near future. We must also thank Honorable Deputy Consul for giving us the opportunity to discuss Projects related to Education, Environment, Women Empowerment & Health. H.E Dr.Shahzad Amin Ambassador at Large Pakistan also attended the meeting.
On behalf Secretary General Sir
Rafał Marcin Wasik
IHRC Pakistan has assured their complete support & cooperation to the Deputy Consul in Projects related to the betterment of Humanity in Pakistan.
Issued by:
Mohsin Durrani
International Human Rights Commission
German Embassy Islamabad