Dr Sani Friday
Press center > Africa Region > Nigeria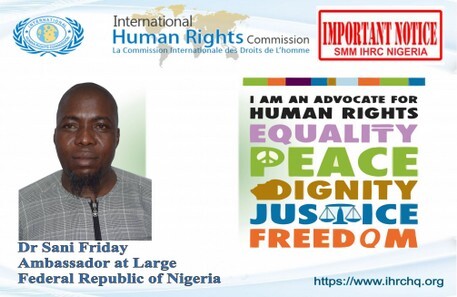 Press release from mail office of Nigeria IHRC.
As Nigeria lockdown gets into the third week the govt of Nigeria has set up Mobile courts to try offenders in accordance with the law.
As a responsive and responsible organisation whose target is to restore ,guide and protect the rights of the ordinary people, Nigeria central office today activates all IHRC lawyers in Nigeria to give free legal representation so as to give fair hearing to offenders.
Sir as I continue to say may God gives power to support us.please any body who has his friend and relatives arrested can contact IHRC:

Ambassador at Large Dr Sani Friday
with this phone number