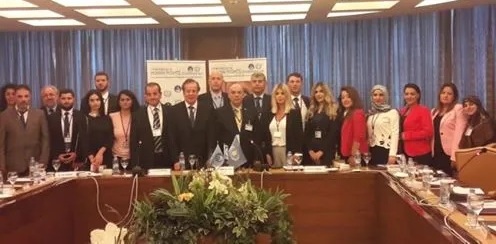 The IHRC holds its own conference in Choral Beach (Beirut) and issues recommendations on human rights…
The International Committee for Human Rights (Geneva Office) held an expanded meeting of its executive members at the Coral Beach Hotel in Beirut on local and regional issues where the participants discussed most of the violations in the Middle East.
The meeting was attended by the Middle East Commissioner for the International Committee and her advisor to the United Nations, Dr. Haytham Abu Said:
Chairman of the Legal Consultative Committee Lawyer Dr. Riad, Advisor to Strategic Affairs Brigadier General Hassan Bushroosh, Media Mirna Radwan, Member of the Executive Council in the Middle East Coordinator Adib Asaad and Mazen Kasha, Ali Ahmed, Magda Moussawi, Baqir Tarshi and Member of the Secretariat Isam Al-Khatib, Director of Lebanon Office Rami Fawaz, Vice-President Mr. Elie Hanin, Secretary Mr. Samir Shami and Ms. Rima Farah. The meeting included the Chairpersons of the committees: Legal Committee Mr. Mohamed Ramadan and Mr. Hassan Oweidat, Public Relations Committee Amna Zohawi and Rola Mazloum, Humanitarian Committee Miss Katy Became, the Committee on Women's Affairs Ms. Rola Ghalayini, the Committee on Information Ms. Mireille Obaid, associate committee Ms. Mervat Kanso.
Chairman of the Legal Consultative Committee Lawyer Dr. Riad Al-Haraka and Strategic Affairs Advisor Brigadier General Hassan Broshoush, Member of the Executive Council in the Middle East, Coordinator Adib Asaad, Mazen Kasha, Mirna Radwan, Media Office Ali Ahmed, Majida Al-Mousawi, Baqir Tarshish, Sama Al-Khatib and Member of the Secretariat Essam Al-Khatib.
The meeting addressed the humanitarian, media, human rights and judicial issues in general and the violations that occur in the competent departments, which concern prisons and courts and ways to address them and show the mechanism required to stop and alleviate the suffering and activate the mechanism required for one of the worsening of the situation, and that the Office of Lebanon in the International Commission on Human Rights Any political agenda where the office will have good and privileged relations with all political parties and will never accept any political interference in its work. The office will never deviate to any political party or favor any party over another, treating every case in which human rights are violated as a very neutral and transparent issue.
In conclusion, Ambassador at Large Abu Said talked about the committee's program for the year 2019/2020, referring to all the official meetings he had with the concerned authorities, and touched on the bad conditions in Yemen, Bahrain and Syria and what is needed to stop this bleeding of people and innocent people who are the only ones who pay the biggest bill.
Ambassador at large IHRC
Dr Abu Said