75 th UN General Assembly
Press note > Secretary General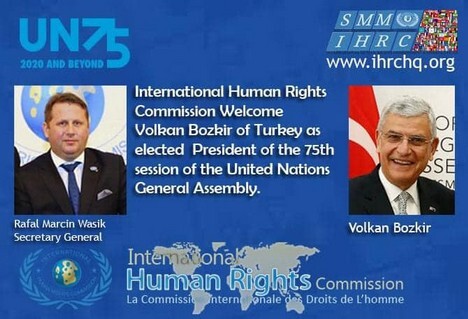 International Human Rights Commission (IHRC) is working to strengthen & support all Nations capacity to engage in sustainable development through educational access, relief programs, ecological & bioethical reflections & actions, while taking in to consideration the traditional, social & cultural values of
each Nation. Promoting Human Rights Peace, Gender Equality, Health, Economic development, awareness regarding the rights of women, children & youth in developing nations & where ever needed.
For the first time in 75 years, world leaders will not travel to New York for the annual UN General Assembly session in September this year due to the COVID-19 pandemic, the President of the UN General Assembly has announced. The landmark 75th session of the UN General Assembly started on September 15 and the first day of the high-level General Debate is likely to be on September 22.
Last month, UN Secretary General Antonio Guterres had suggested in a letter to Muhammad-Bande to hold the General Assembly session under a "different format", such as using pre-recorded messages provided by world leaders, saying it was "highly unlikely" that Heads of State and Government will be able to travel to New York for the high-level week due to COVID-19.
Volkan Bozkır TBMM of Turkey was elected on Wednesday as president of the 75th session of the United Nations General Assembly. As the sole candidate for the presidency, Volkan Bozkir, who has served in Turkey's foreign service for nearly 40 years, won unanimous support of the 178 UN member states that were present and voting. Bozkir will take over from Tijjani Muhammad-Bande, the current General Assembly president, in September. A General Assembly presidency has a one-year term.
IHRC & its team warmly welcome VOLAN BOZKIR as the President of the 75TH Session of the United Nations General Assembly & wish him Good Luck with our complete support.

Issued on behalf of the
International Human Rights Commission