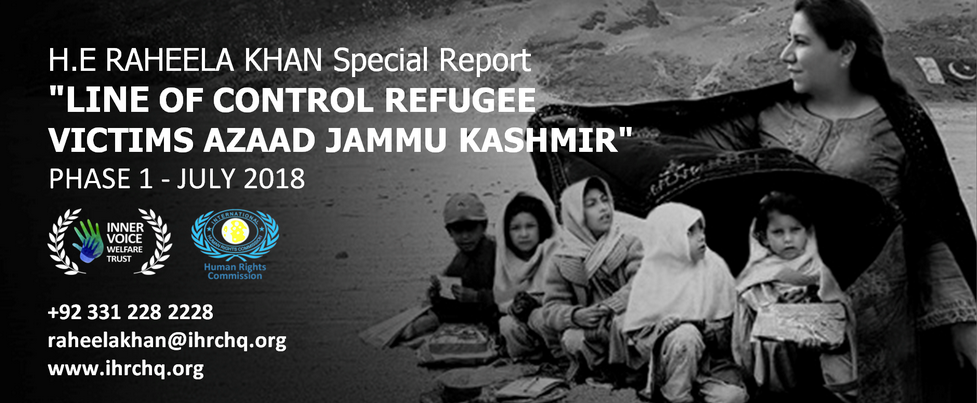 "Greetings. This report is supplementary to the VIDEO DOCUMENTARY REPORT (link provided below) which highlights the crucial needs and requirements of the REFUGEE VICTIMS and local populations residing in camps near LINE OF CONTROL of the Azaad Jammu Kashmir region
The report focuses on their requirements which are but not limited to CLEAN WATER, MEDICAL SUPPORT, FOOD and SHELTER, EDUCATION and WOMEN EMPOWERMENT which form the primary AGENDAS of the INNER VOICE WELFARE TRUST. As a limited organization we look forward to form alliances with similar and even superior organizations so these AGENDAs can be met successfully in order to save and enhance the quality of lives of the thousand of underprivileged. I thank you and your organization for your precious time in viewing the video documentary along with this confidential report."
Ambassador at Large H.E. Raheela Khan

---
---
DISCLAIMER
The footages, facts and figures reported by the INNER VOICE WELFAR TRUST are a result of physical survey done by our dedicated team is subject to change and may differ from results achieved by other parties or online resources. We have tried our best to capture and report maximum ground reality where access was possible and continue our survey and development reports as we execute our agendas
.
REPORT - PHASE 1
Due to selected and limited areas surveyed at this initial stage, this report is acknowledged as PHASE 1 of the project LINE OF CONTROL REFUGEE VICTIMS AZAAD JAMMU KASHMIR. The INNER VOICE WELFARE TRUST's mission is to counter deprivation of basic resources such as Water, Medical Health, Education, Accommodation and Women Empowerment programs in the surveyed REFUGEE camps and local population in range of the LINE OF FIRE at the border between PAKISTAN and INDIA.
SCHOOLS (Agenda : Education)
 5 main schools were surveyed and interviewed to highlight requirements that will enhance the access and quality to Education.  Courtesy of the President Her Excellency RAHEELA KHAN, the INNER VOICE WELFARE TRUST issues occasional donations to these self-developed institutions but permanent development is required to bring up the quality and efficiency of these schools.  Very few students who can pay are paying a monthly fee of $10/- which is a mere incompetent attempt to maintain the school operations.  These schools need funding in order to establish a proper building, furniture, books and uniforms.  Funds are required manage monthly running expenses such as teacher salaries who are receiving a monthly fee ranging from $25/- to $45/-
REGION LIST OF SCHOOLS CATEGORY STUDENTS
AMBORE 1 UMME E HABIBA * REFUGEE 200
2 SUNRISE MODEL SCHOOL * REFUGEE 180
3 BURHAN SHAHEED COLLEGE * REFUGEE 130
4 NEW HOPE ENGLISH GRAMMER SCHOOL * REFUGEE 350
5 SHAFIQ SHAHEED MODEL SCHOOL * REFUGEE 100

Full Report REFUGEE VICTIMS.pdf