Pakistan
What we do > Humanitarian > FREE MASKS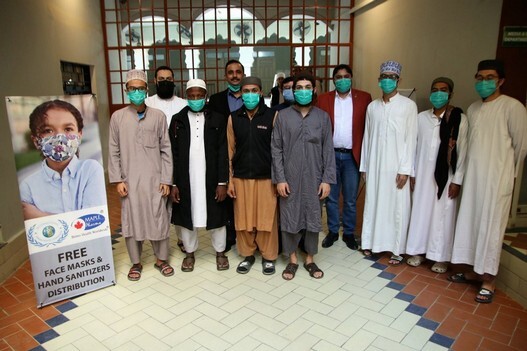 We received several requests from different Schools across Pakistan, especially from Karachi for the DISTRIBUTION OF FREE MASKS & SANITIZERS in Schools by
International Human Rights Commission
in collaboration with Maple Pharma Pakistan.
Unfortunately all the Schools across Pakistan were closed by the Government due to
#COVID19
& we were unable to execute the distribution & will do the same in January 2021.
Today we visited
Ambassador Mohsin Durrani
Ambassador at Large & Advisor UN Affairs along with Ambassador Asim Irshad
International Human Rights Commission
Jamia Binoria International [Official]
in Karachi for the distribution of 600 FACE MASKS & HAND SANITIZERS for the Students currently studying including International Students.
We must Thank
Farhan Naeem
Vice President &
Noman Naeem
President JAMIA BINORIA INTERNATIONAL for their hospitality & for allowing us with the honour of distributing MASKS & HAND SANITIZERS for their students. We must also thank Aamir Tuaseen for arranging the Visit. Special Thanks to CEO Maple Pharma & Mohsin Feroz
Binoria University International is founded on the bases of Islamic Education. It is a seminary with contemporary education and latest disciplines. The foundation for this seminary was laid by Molana Mufti Muhammad Naeem under the patronage of his father Qari Abdul Haleem in 1979 AD, i.e. 1298 AH,
The University has an establishment of 12 acres to impart education to about 8 thousands students, male and female. The university has great buildings of two majestic great Mosques, administrations and the staff. The university has become a great education institution since its meager start. It has been catering national & international students..
The degrees issued is equivalent to university degrees and recognized by the HIGHER EDUCATION COMMISSION.
Ambassador Mohsin Durrani
Ambassador at Large & Advisor UN Affairs